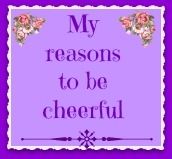 Happy Boxing Day dear readers, I hope you are all having a lovely festive season.
There are many things I am cheerful about and grateful for this week but my most important reason to be cheerful is that we have electricity!
Following a massive ice storm that hit southern Ontario on Saturday night we spent 36 hours with no electricity in sub zero temperatures.  With nothing but a log fire in the family room the inside of the house quickly dropped to below 10C.  To say it was uncomfortable is quite an understatement but what it did was make me realize how much I really appreciate heat, lights, and the ability to put a hot meal on the table every day for my family.  We are, in fact, amongst the lucky ones as many are still in the dark today and a frigid festive season with no heat would have been truly miserable.  The electricity supply is still a bit temperamental as ice-laden trees continue to take out power lines and as the snow continues to fall the likelihood of power cuts increases but for the most part we are warm and safe.
So in the true spirit of reasons to be cheerful I have been reflecting on the positives instead of the negatives:
Even with no electricity or heat at times, we still have a roof over our heads.
I might be under the weather right now but I have blankets to keep me warm and medication to take the edge off it.
We got through the storm relatively unscathed (OK my temper may have been a little frayed 30 hours in, but it was nothing an extra log on the fire and a hot cuppa couldn't fix!)
And in true Canadian style, extreme weather always provides fabulous photo opportunities. Here a selection of my icy pics this week.