Isn't it amazing that we're into the last two weeks of 2013 already?!  With the festivities just around the corner I have lots of things making me smile this week.
School Holidays
Youngest Son finished school this afternoon, he really needs the break now, and it's been a long four months since the beginning of term. More importantly, I like having my boys around.
Parcels and Messages.
We're getting little treats everyday in the form of cards, messages or parcels form our dear family and friends in England It makes me smile to know we are in their thoughts this Christmas despite being so far away and the deliveries of Cadbury chocolate is such a treat and has added to the decorations on my Christmas tree this year!
Lots to do
We're busy, busy, busy with plans for dinner with friends and also with family and even plans for a few days away in the not too distant future to look forward to.
Sunny, Snowy Days
It's been beyond freezing of late; wind chills have been in excess of -20C on occasion.  The positive thing about this is not only the snow, making things feel very Christmassy but also the winter wonderland outside the front door has been absolutely beautiful to photograph. Here is a small selection of my snaps this week;
So what is making you cheerful this week?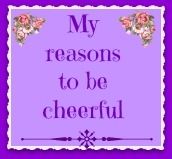 This is the Christmas one!! This one runs out next week………on Christmas Day!!